Glocalities segmentation
The world is constantly changing. Technologies that grow exponentially and new media mean a continuously faster distribution of knowledge and products.
The world is continually changing. Technology is growing exponentially, and new media allow a fast and continuous distribution of both knowledge and products. Challenges faced by companies and governments are greater now than ever before. In today's world, it is crucial for organizations to have the best possible understanding of future developments. If you want to be successful worldwide you need to know fundamental trends, how these differ locally and how they relate to each other.
With our unique understanding of what motivates and moves people, we can offer your organization a fact-based navigation system for the future. We provide you with the opportunity to step into the shoes of your target audience and activate their potential.
The Glocalities Survey
Glocalities has surveyed over 200,000 respondents in 40 countries and 28 languages during four separate waves of fieldwork. This in-depth study has been conducted in Australia, Austria, Belgium, Brazil, Canada, China, Colombia, Croatia, Czech Republic, France, Finland, Germany, Hungary, India, Indonesia, Italy, Japan, Mexico, the Netherlands, Poland, Portugal, Romania, Russia, Spain, South Africa, South Korea, Sweden, Turkey, the United Kingdom, the United States and Vietnam. Together, these countries accommodate 63% of the world population and represent 83% of the world economy.
Five segments have been identified among the world population:
Creatives: Open-minded idealists who value personal development and culture.
Challengers: Competitive workers with a fascination for money, risk, and adventure.
Achievers: Entrepreneurial networkers who value relatives and community.
Conservatives: Family people who value tradition, etiquette and an organized life.
Socializers: Structure seekers who enjoy entertainment, freedom and family values.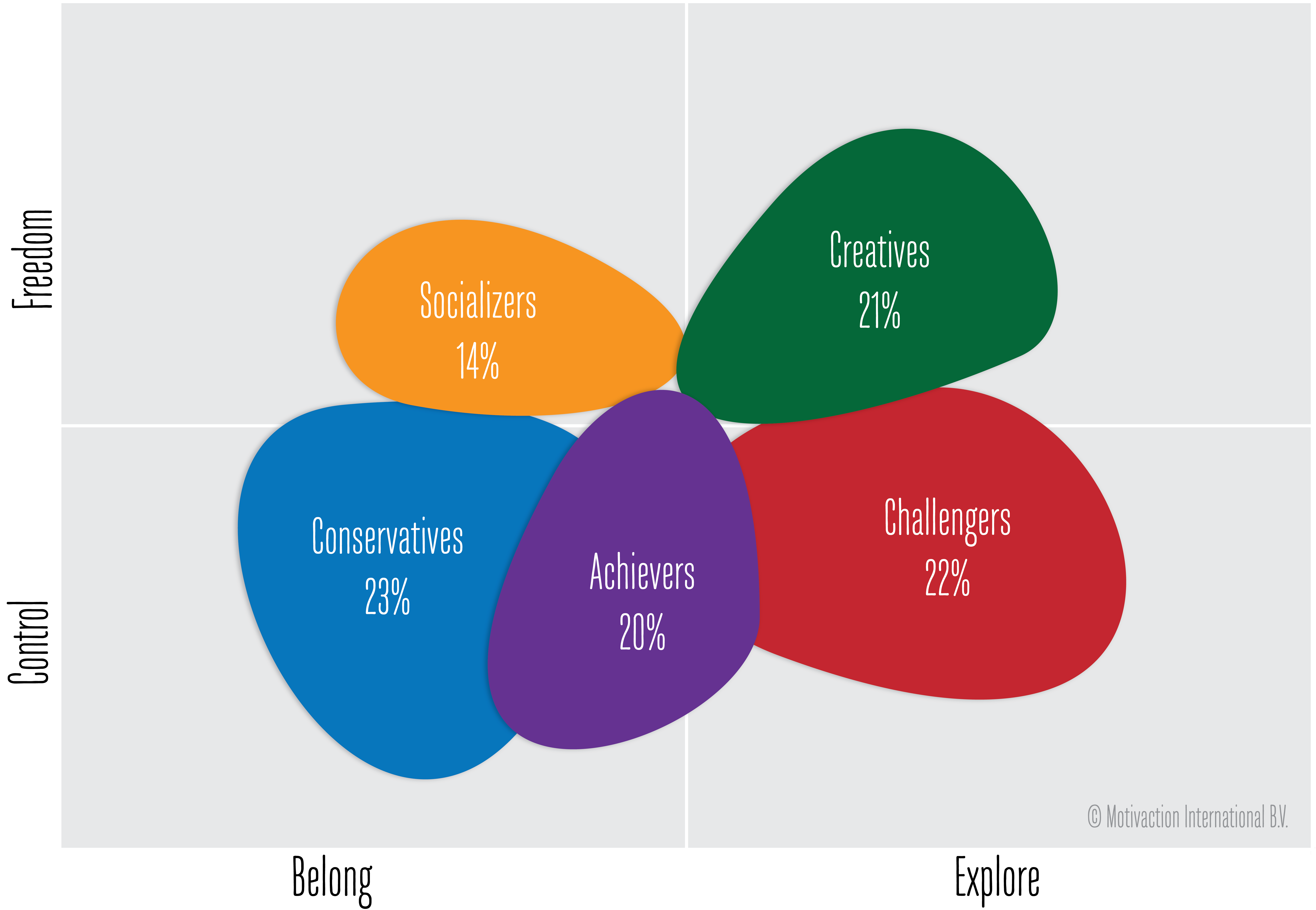 Click at the image for a full screen
Values as Foundation
The Glocalities survey contains a rich diversity of questions that are aimed at providing insights into the motivational drivers of human behaviour. The main segments of the analysis are values, cultural differences, behaviour and preferences in daily life.
Value statements are used to distinguish between Glocalities segments and to understand cultural differences, character traits, styles and trends. The survey also touches upon topics such as voting behaviour, political priorities, hobbies, music preferences, consumer and media behaviour. By combining the knowledge on individuals' values, lifestyles and social orientations, consumer behaviour, media behaviour and socio-demographic characteristics, the Glocalities segmentation model has been created. This model is based on a deep understanding of individuals' behaviour and opinions, which are shaped by value orientations deeply embedded within persons and society.
Glocalities in practice
With our extensive empirical knowledge in the areas of target groups, generations, trends and cultural differences, we can offer you valuable insights for sustainable relationships and results. We help you to:
Identify and understand your target groups
Communicate more effectively
Adapt to trends successfully
Understand and utilize cultural differences
Position yourself optimally
Gain insights into effectively change management
For more information on Glocalities or to request international research, please visit the Glocalities website.