Mentality™ is the result of Motivaction's unique, large-scale value and lifestyle research that offers an effective look at target group division and approach. With this tool organizations are able to better define, classify and approach their target audiences. Furthermore, Mentality helps to gain insights and understanding of what motivates your target audiences, how trends arise, and how you could operate in a broader context.
Traditionally, social and demographic characteristics have been considered influential to explain and predict individuals' opinions and behavior. Over the years these traditional divisions based on age, gender, education, and income have become less powerful at successfully distinguishing different target audiences. Mentality™ has proven itself as successful tool to explain and understand individuals' behavior. Our Mentality model also allows us to understand why traditional characteristics cannot provide the best answers.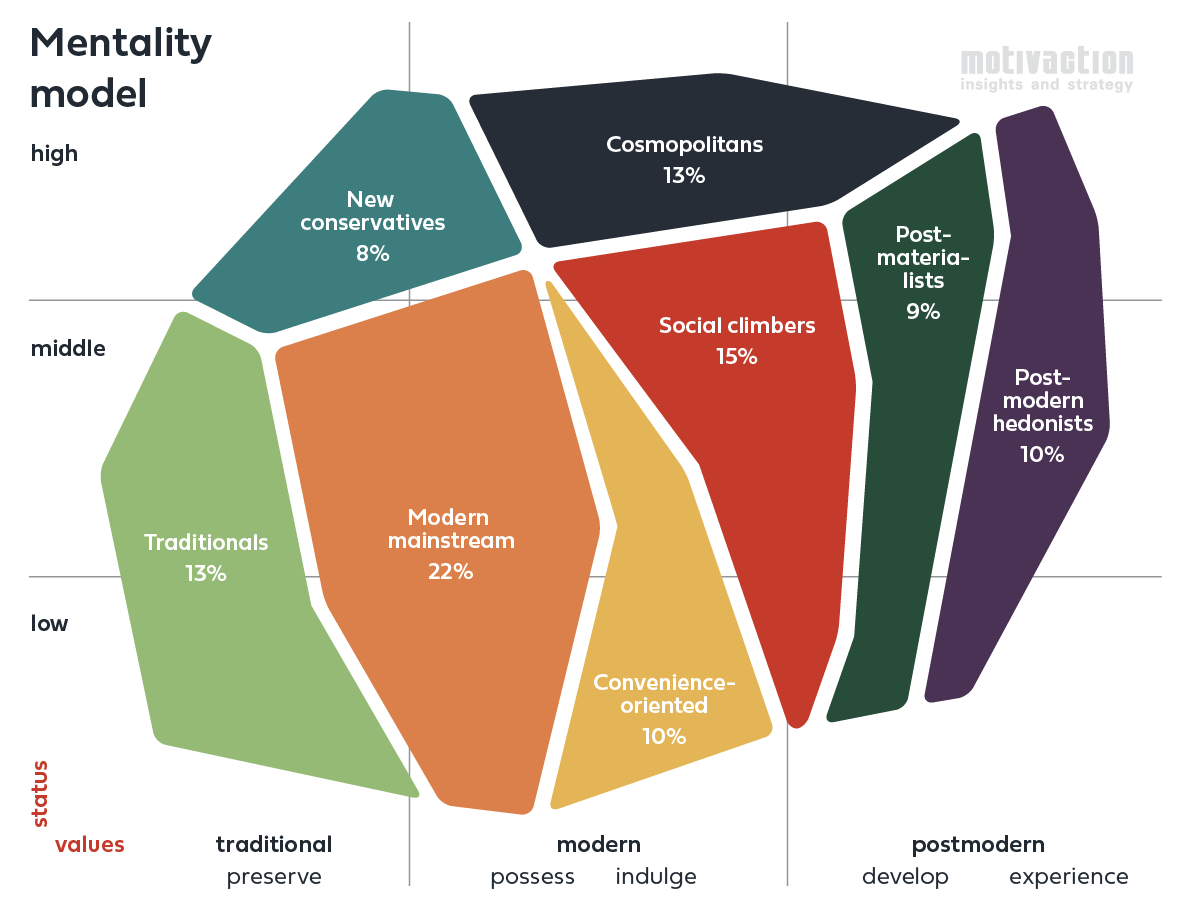 Social Environments
With use of Mentality™ we have been able to segment people according to their lifestyle, or life situation. In the Netherlands, we have distinguished eight different social environments. These are defined based on individuals' personal values and beliefs: the foundation of people's lifestyles.
People who belong to the same Mentality™ segment share values regarding work, leisure time and politics, and show corresponding ambitions and goals in life. Additionally, each segment has a corresponding consumption pattern, expressed by specific behaviour.
Sister Models and Social-Cultural Undercurrents
In addition to the Mentality model, we have developed several 'sister models' and distinguish 39 social-cultural undercurrents. These models allow us to have a sharper and more focused view on target group developments and trends.
Our Database
Motivaction has two in-house research participant databases. Our StemPunt-panel gives access to a database with 65.000 Dutch people who regularly participate in research questionnaires.
The other database has been developed through qualitative interviews with more than 1250 individuals every other year. Those interviews have resulted in a databank with over 23.000 respondents about whom we know many variables. As a result, we can offer you valuable insights into the nature of your current and potential customers. We can answer your questions quickly, sometimes even without having to do independent research.