Het Mentality-model is een unieke segmentatietool waarmee organisaties doelgroepen gerichter kunnen definiëren en beter kunnen begrijpen.
Het model onderscheidt de Nederlandse samenleving in acht sociale milieus, die zijn samengesteld op basis van persoonlijke opvattingen en waarden. Er wordt met deze onderzoeksmethode verder gekeken dan demografische gegevens: je krijgt diepgaand inzicht in de drijfveren van jouw doelgroep, in het ontstaan van trends en in welke bredere context je deze moet plaatsen. Hiermee beschik je over zeer effectieve input voor marketing- en communicatiestrategieën.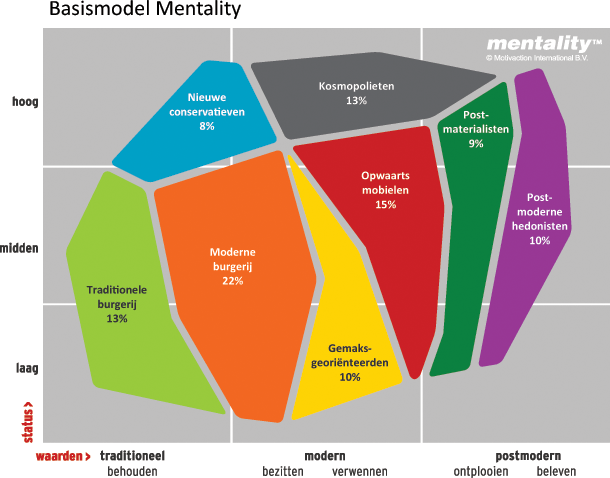 (klik op de afbeelding voor een groot formaat)
Wil je weten tot welk Mentality-milieu je behoort? Doe dan nu de Mentality-test!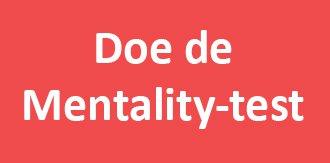 De Mentality-test is ontwikkeld door en eigendom van Motivaction International B.V.
De vragenlijst en de voor de test ontwikkelde vraagstellingen vormen één geheel en zijn, net als het Mentality-model, eigendom van Motivaction.
Het is derden niet toegestaan om de Mentality-vragenlijst (waaronder ook wordt verstaan individuele vraagstellingen) of het model te gebruiken voor interne of externe doeleinden zonder SCHRIFTELIJKE toestemming van Motivaction.
Wat levert het inzetten van Mentality je op?
Directe benefits:
Diepgaand inzicht in groepen consumenten/burgers
Snel resultaat (kwantitatief maar zonder veldwerk)
Scherpe concurrentieanalyses
Input voor communicatie en tone of voice
Benefits op langere termijn:
Zicht op trends en relatie met maatschappelijke context
Coherentie in strategische beslissingen ten aanzien van positionering, marketing(communicatie) en effectevaluatie
Databaseverrijkingsmogelijkheden
Koppeling met mediagebruik, retail, consumptiegedrag
Koppeling met postcodegebieden
Download voor meer informatie de brochure: