Think global, act local
The world is constantly changing. Technologies that grow exponentially and new media mean a continuously faster distribution of knowledge and products.
The younger generations take over the mantle from older generations. The challenges for companies and governments are greater than ever before.

It is crucial for organizations to have the best understanding possible of future developments. A necessary condition for success is knowledge of fundamental trends and how these can differ from each other locally and relate to each other worldwide. With unique knowledge of what drives people and gets them moving, Motivaction International offers your organization a fact-based navigation system for the future.

For Glocalities, Motivaction surveyed more than 48,000 respondents in 20 countries and 12 languages in December 2013 and January 2014. The in depth study was conducted in the US, Canada, Mexico, Brazil, Australia, Japan, China, South Korea, India, Russia, Turkey, South Africa, Italy, Poland, Germany, France, Spain, Belgium, the Netherlands and the United Kingdom. This selection of countries contains 58% of the world population and represents 75% of the world economy.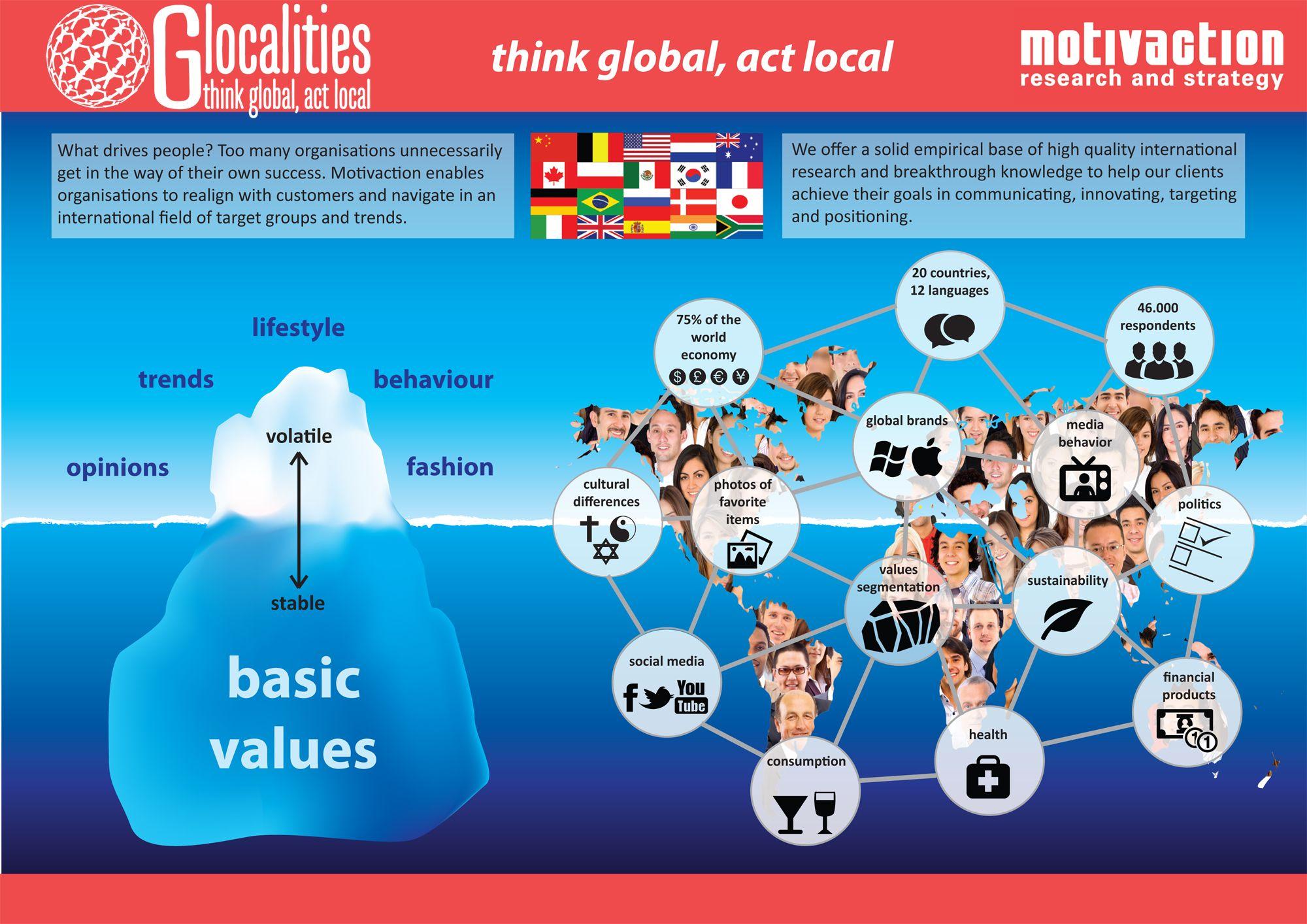 Glocalities data available for client analysis - Rich source of knowledge
Motivaction International serves a diverse range of clients with knowledge and consultancy in the areas of positioning, segmenting, communicating and innovating. The foundation of our work is based on in-depth empirical knowledge of target groups and trends. We continually invest in the collection of research data and insights in order to be able to serve our clients with fact-based social intelligence. Our Glocalities database is a rich source of knowledge with an extensive set of variables based on representative studies in 20 countries.

Values as foundation
The Glocalities survey contains a rich diversity of questions that provide insights into values, cultural differences, behaviour and preferences of daily life. Values statements are incorporated in order to distinguish Glocalities segments and understand cultural differences, influencing styles, character traits and trends.

Lifestyles and social orientations
For social analyses voting behaviour, political issues and priorities and confidence in institutions are included. Hobbies, favourite personalities, music preferences, ownership of products and participation in various provide insights into the lifestyles and preferences of the people surveyed.

Consumer behaviour and global brands
Detailed consumer behaviour is available in various sectors with for instance questions about:
The use of financial products and services at banks
The consumption of beer brands
The area of health and the use of body care products and brands
Attitudes and preferences in the areas of sustainability and social responsibility of companies

The use of products from 40 global brands (including Apple, Nike, Visa, Dove, Coca-Cola) and the corresponding Net Promotor Score (NPS) are determined so that the promoters, passives and detractors of these brands can be distinguished in the study.

Media behaviour
For media profiling questions are used about:
Social media usage
Website visits
Reading newspapers, listening to radio stations and watching television broadcasts
Socio-demographic characteristics
Social background data becomes available through questions about age, education, gender, religion, work situation, income, sector and family situation

Based on all this high end information we distinguish five global segments. The size of each segment differs per country and region.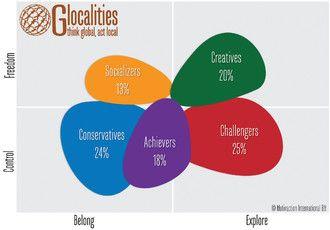 Glocalities in practice
If the international market offers business opportunities for your organization, we can help you be successful. With <Glocalities>, we offer worldwide empirical knowledge and consultancy in the areas of target groups, generations, trends and cultural differences. When you thoroughly understand your target group's values and can adapt them creatively, you have struck gold. Whether it is about consumers, civilians, employees or generations, a targeted match of your proposition with the target group's underlying values provides insights for sustainable relationships and results.

What does Glocalities offer you?
With Glocalities, we provide you insights in:
1. Identifying and understanding your target groups
2. Effective communication
3. Adapting trends successfully
4. Cultural differences
5. Optimal positioning yourself
6. Effective change management

Customised customer research and consultancy
Upon request we can offer you a tailored research in which sharp, practical, usable insights are combined with available data. We can approach respondents again and other populations that are relevant for you. We transfer knowledge, insights and recommendations in many different ways. For example:

Lectures/presentations
Consultancy
Workshops/training
Reports
Quantitative and qualitative research
Licences to use the model
Use of Glocalities test
Database enrichment
Area analysis
Access to the Glocalities database

Please reach out, we are very happy to help you to make your international business successful.
Press coverage:

In China, 64 percent say they are environmentalists - report Reuters.com Wed, May 07 2014
Europe's Eurosceptics more united than many think: poll Reuters.com Mon Apr 14, 2014
Similarities and differences Economist.com Apr 12th 2014
Chinese like shopping, singing and computer games, Europeans like reading, relaxing and pets Motivaction,Thursday March 20