Mentality™ is the unique value and lifestyle research from Motivaction that offers an effective look at target group division and approach.
Thanks to research into people's experiences, our customers enjoy more insight into how their target groups move, how trends exist and into which wider contexts they operate. Mentality™ has proved itself as a better means to explain and understand people's behavior and to then understand the traditional divisions on the basis of age, gender, education and income. With this, the research method offers you a very effective input for marketing and communication strategy.
Would you like to know which Mentality™ environment you fall in? Take the test!

Social environments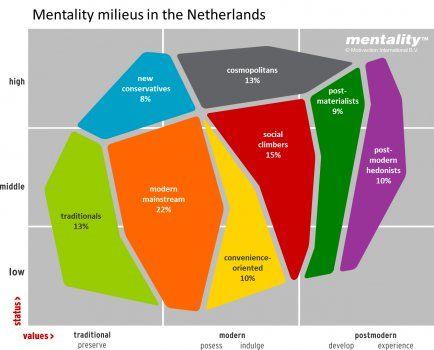 With the Mentality™ model, Motivaction groups people according to their life situation. The Netherlands has eight social situations, as displayed on the Mentality overview page. We define these social situations on the basis of personal beliefs and values which are the foundation of people's lifestyles. People from the same social situation, share values regarding work, leisure time and politics, and show corresponding ambitions and aspirations. Every situation has an own lifestyle and consumption pattern, which is expressed by specific behavior. On the basis of more than a decade of empirical research it appears that the social environments form a stable, consistent and practically usable segmentation. For a list with public publications and background information about Mentality, see Mentality in publications. Or take the Mentality test to discover which environment fits you best.

Mentality sister models and social-cultural undercurrents
To have an even sharper and more focused view on target group development and trends, we distinguish 39 social-cultural undercurrents and five Mentality sister models have been developed. Society changes due to the emergence of young generations and the influx of migrants. We highlight this dynamic with the YoungMentality and EtnoMentality target groups. With InternationalMentality, Mentality segmentation can be deployed worldwide. For the public sector the Citizenship styles offer insight and for the care market we have the CareMentality model. To be able to optimally assist our customers with communication, marketing and policy questions, each sister model clearly shows how the segments relate to the basic Mentality model. Our social-cultural undercurrents expose phenomena in society which influence the behavior of people and where some groups score high and other groups do not. These undercurrents (for example law & order, time constraints, pure hedonism and voluntary simplicity) divide and connect population groups.
Living database
Motivaction has worked with Mentality™ from 1997 and has developed two Mentality databases itself. With our StemPunt panel we have access to a 'living' database with tens of thousands of Dutch people who regularly participate in research. In addition we have a large Mentality database available which has been developed from written measurements which are carried out face2face at people's houses annually among more than 1250 Dutch people. We have used this method to create a databank with around 23,000 respondents that are divided into social situations and a few thousands associated variables.
 
Thanks to years of self-implemented research our Mentality databases provide insight into the nature of current and potential customers. Many of your questions can be answered quickly, sometimes also without separate research being done. On the basis of this data, the media and consumer behavior of specific target groups, among other, are gleaned.
You can use our current Mentality data and applications in the area of:
government
media
automotive
labor market
charity
free time and culture
energy
finance
FMCG
ICT
gambling
mobility
retail
telecom
living