Research is not confined by borders; that is why Motivaction is active with its WIN/Gia and GlobalNR partners in more than 72 countries and we co-ordinate research on all five continents from Amsterdam. We have the knowledge and experience to set up and implement international qualitative and quantitative research from the Netherlands: Our experts are familiar with the culture and know the local situation. In this way Motivaction has questioned more than 48,000 respondents in 20 countries for the Glocalities research. This allows us to divide international target groups.
Expertise international market research
Effective international market research and international segmentation requires specific skills and knowledge. That is why it is important to guarantee the comparability of the research results from the different countries. In addition, this requires good knowledge of the local market and the significance of the results in a local setting. Thanks to expertise from the various Motivaction partners "in the field we take the local differences into account in international research and put these into perspective.

We have local researchers available who know the local circumstances and are aware which method (telephone, written, online, mobile or face-to-face) is better to use or which questions should be avoided because they are sensitive. Or at which locations the (taste) test should not be carried out. Practical knowledge which contributes to international studies being able to be well matched to each other and take place efficiently, at which local traditions and opportunities (legislation!) are respected, and that they can be carried out at an acceptable price within a tight time frame.
What does it offer you?
International market insights.
International segmentation profiles.
Views on trends and developments within the Netherlands and outside our country borders.
Knowledge per country, at regional and local level.
Rapid research results thanks to a large database with data already available and fixed collaboration partners.
Insights of experts in international B2B and B2C.
Glocalities research
For the Glocalities research Motivaction has researched more than 56,000 respondents in 24 countries and 15 languages. The study is carried out in US, Canada, Mexico, Brazil, Australia, Japan, China, South-Korea, India, Indonesia, Russia, Turkey, South-Africa, Italy, Poland, Romania, Sweden, Germany, France, Spain, Belgium, Austria, the Netherlands and the UK. This selection of countries represents 62% of the world's population and 80% of the global economy. Read more about Glocalities and international segmentation.
International segmentation model
Glocalities offers insight into values, cultures, preferences and behavior of consumers over the entire globe. This is the basis for our international segmentation model.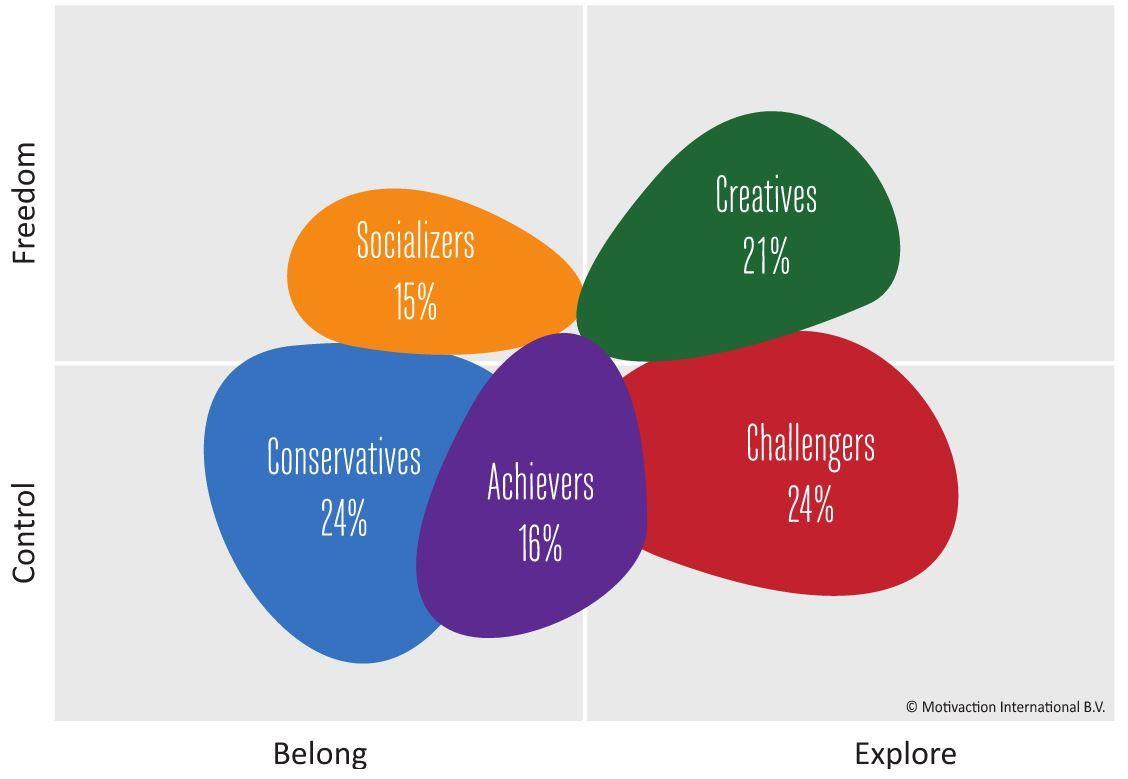 GlobalNR and WIN/Gia-network
To be able to offer assurance and reliability with international research, Motivaction is part of two trend-setting international research networks, GlobalNR and WIN-Gallup. This network of independent research bureaus offers us access to research specialists over the whole world. In addition, Motivaction is connected to a number of global organizations, including:
ESOMAR, the world organization of market researchers. The founder of Motivaction, Frits Spangenberg, was also president and general director of Motivaction from 2010-2012. Pieter Paul Verheggen is currently active as ESOMAR council member.
WAPOR, World Association of Public Opinion Research. This network is specialized in global opinion research.
AIMRI, Alliance of International Market Research Institutes.


Panels
No database or (respondents') panel is large enough to meet the wishes of all our customers. That is why Motivaction combines the strengths of various online B2C and B2B panels for international research. In order to guarantee reliable and representative output these panels are constantly being developed and are only used for market research.