Meet Ding Yi and Zhang Xiang
01 June 2016
In order to get the most from target groups, we can use personas as a practical tool. Because of cultural differences, the personas we have developed for the Western market are rarely internationally applicable. Because of this, we developed two entirely new Chinese Glocalities-based personas: Ding Yi and Zhang Xiang to identify and profile our Chinese target audiences. NBTC commissioned Motivaction to conduct research amongst Chinese people who are planning to visit Europe in the near future. This research was carried out across the Chinese regions of Beijing, Shanghai, Guangzhou, Hangzhou, Xiamen and Chengdu to get adequate information to form the basis of our personas.

Motivaction Glocalities Personas: The Netherlands
These personas are based on the Glocalities-model, which includes psychological and sociological aspects. Question asked include whether an individual is open to change and how much they value traditions? Are people particularly obedient and focused on control or do they tend to focus more on freedom and individual choice?
The respondents are divided into five segments: Socializers (1%), Conservatives (13%), Achievers (44%), Creatives (14%) and Challengers (28%). Based on their characteristics and interests the achievers and the creatives form the main target groups in the Netherlands.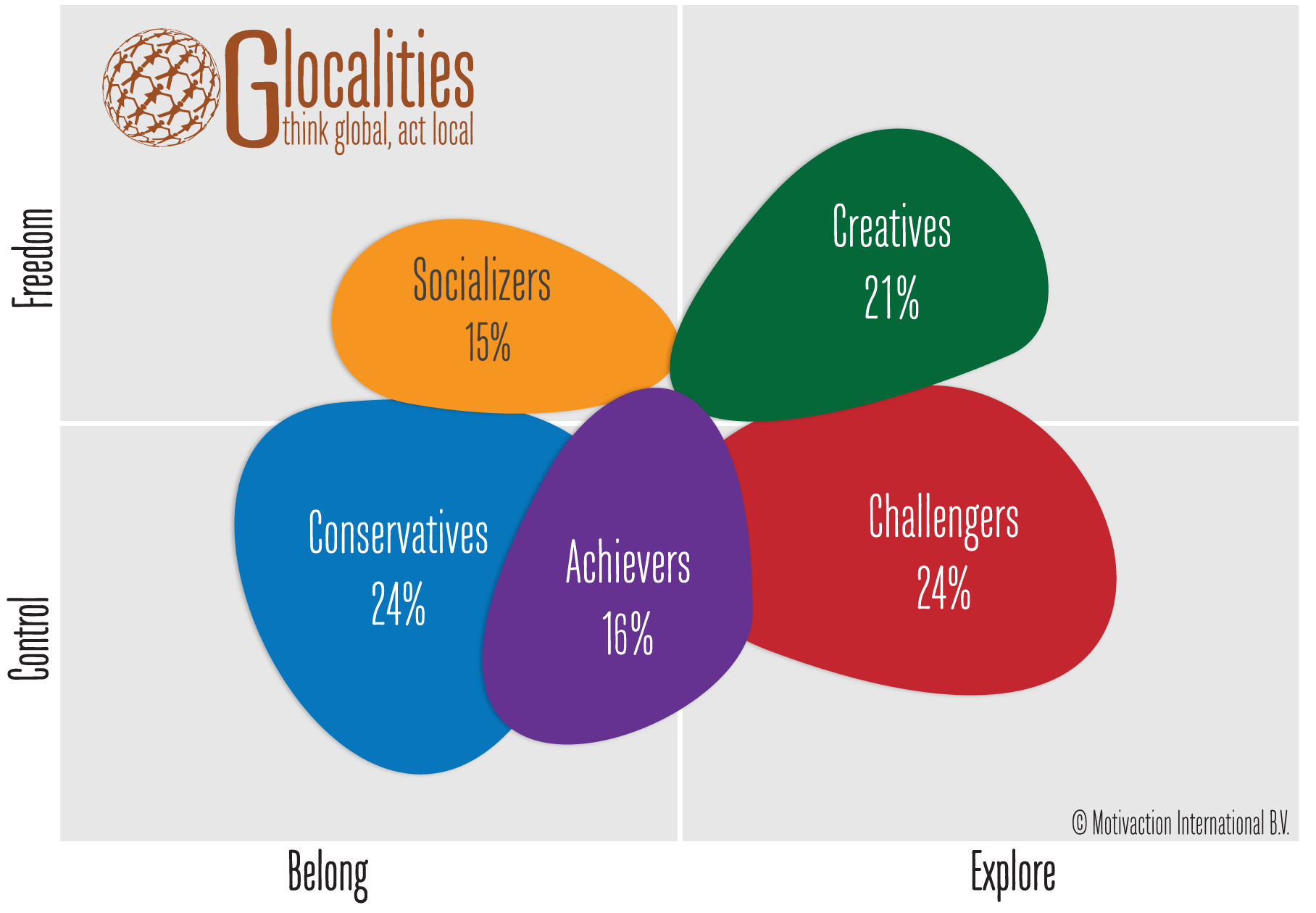 Motivaction Glocalities Personas: China
In order to clearly personify and understand the Chinese demographic that is likely to visit Europe, we have created two personas: Ding Yi (creatives) and Zhang Xiang (achievers).
Ding Yi: open-minded and interested in art and culture
Ding Yi is 32, he lives with his parents, but spends a lot of time with friends. He has a nice job as a web designer at a company that produces healthy food. Ding Yi is active and sporty. He prefers honest, handmade products that look fashionable. To prepare for a trip he mainly uses the internet. He enjoys traveling by himself in May or September and usually stays in three or four-star hotels. He likes to discover hidden treasures and he finds it important to meet new people. Read the fact sheet about Ding Yi to discover what his ideal holiday in the Netherlands looks like.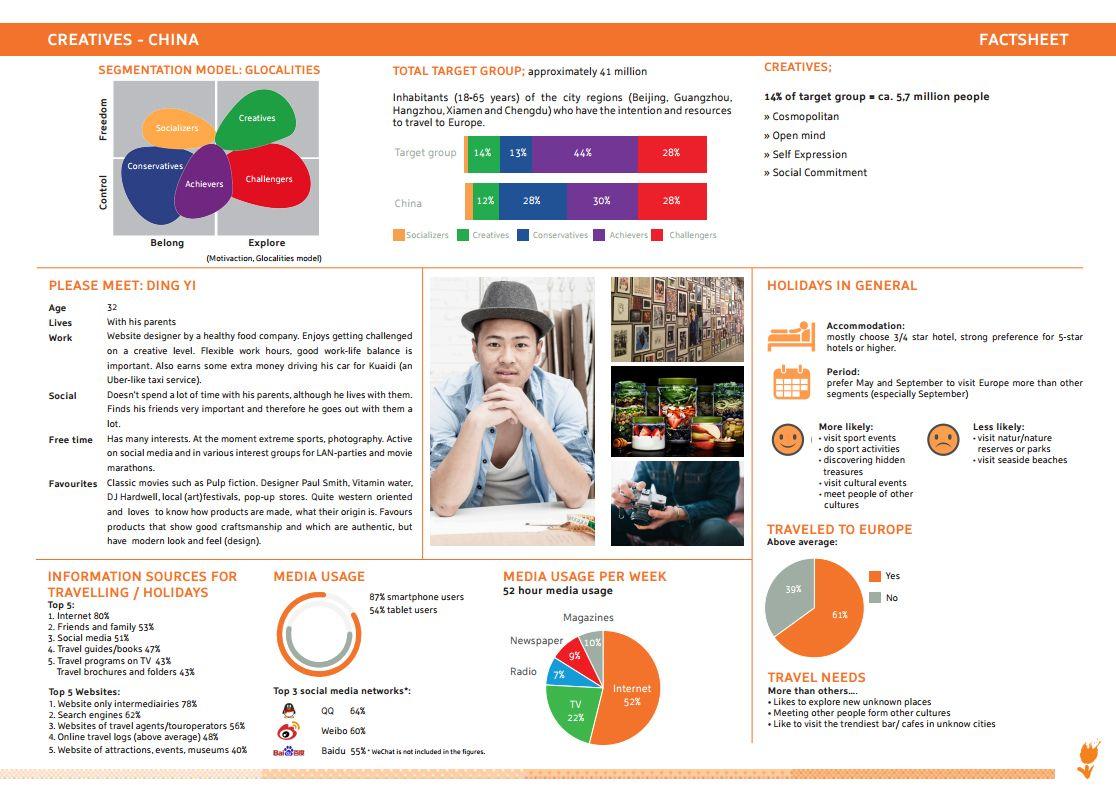 Zhang Xiang: purposeful and fond of souvenirs
Zhang Xiang is 38, he is married and has one son. His work as a manager in a large company is important to him, and he does not mind his long hours. In his spare time, he is pursuing further studies. He is interested in antiques and thinks diamond are a wise investment. Zhang Xiang attaches great value to his family. He often takes his parents on journeys and plans everything in advance. He wants to see all the sights, buys a lots of souvenirs and enjoys being entertained and pampered. He prefers organized tours. Discover Zhang Xiang's favorite period of travel and accommodation in this fact sheet.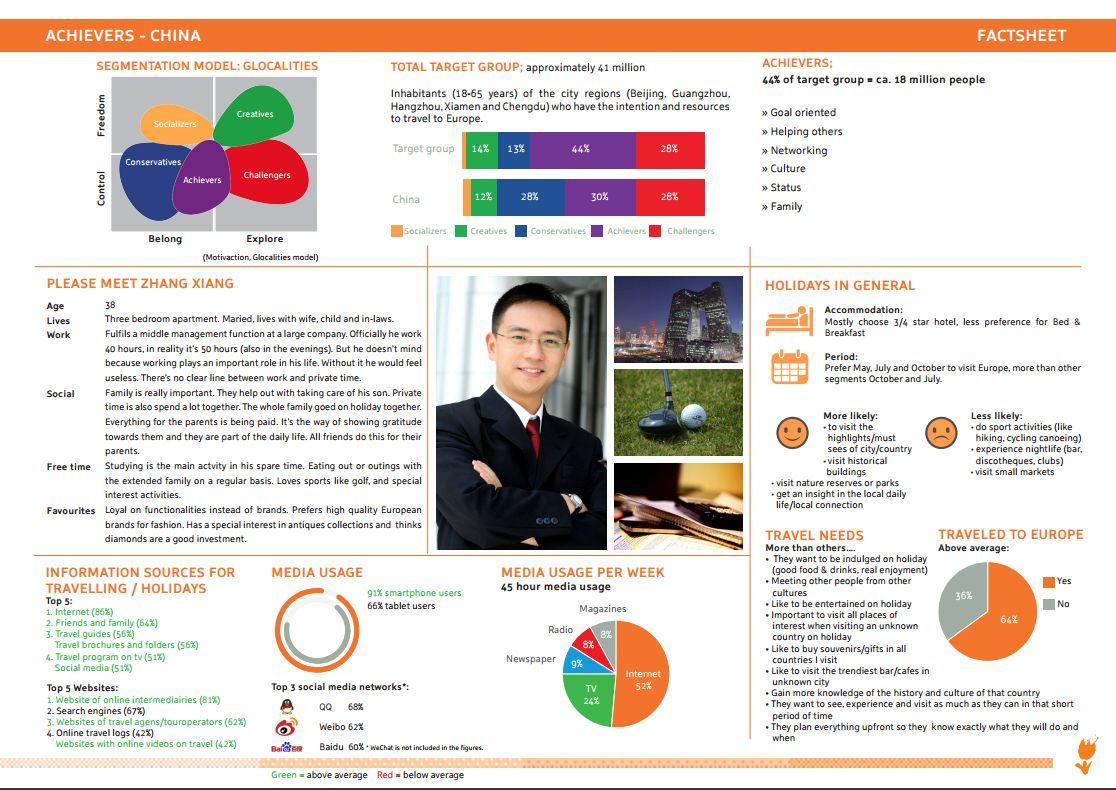 Source: NBTC, 05/18/2016

Read more about personas.