Co-Creation: Create Winning Innovations Together with Leading Users and Experts
12 July 2016
Co-Creation enables you to create, together with the (potential) target group, new or improved product concepts.

Consumers want to be part of the innovation process
Through developments such as social media it has become increasingly easier to share ideas, opinions and experiences. The consequence of this is that companies have less control over consumer behavior. Co-Creation offers new possibilities to positively influence behavioral intentions of consumers and to involve the consumer in product development. The consumer is ready for it: 40% of the Dutch wishes to contribute their ideas about new products and services (source: Motivaction Research 2014).

Co-creation increases the chance of success of innovations
In our Co-Creation Studio we develop new concepts, together with consumers, experts and the client. Deployment of Co-Creation during the development trajectory offers efficiency benefits in time and costs. Because the end result optimally matches the wishes of consumers and the chance of success of the concept is large.

Consumers experience products for which Co-Creation is used is positive and sincere. However, at least 30% of Dutch people state that they want to purchase or acquire a product or service when they know that consumers have thought along during the development trajectory.
What does Co-Creation offer you?
Efficiency benefits in time and costs during the development trajectory of a service or product
It gives a higher chance of success of the innovation because the concept fits even better to the wishes of the consumer
Brands and products for which Co-Creation is deployed are seen by consumers as more positive and sincere

Shall we get acquainted? We look forward to gaining new insights into our newly renovated Co-Creation Studio together with you!
Co-Creation Studio
In February 2016 we proudly presented our completed renovated Co-Creation Studio. This studio is optimally designed for creative Co-Creation sessions, where you, together with your team or with your customers, can brainstorm and work on the development of new ideas, concepts and products. The space is frequently used with clients to discover insights in workshop form to specific action points. With the design of the studio the architect has taken into consideration the different elements which subconsciously stimulate creativity to an unconscious level.

Examples of this are:
The blue light wall and the red accents. The blue color stimulates creativity, while red improves the precision and punctuality in more detailed assignments.
Adjustable lighting can be optimally adjusted for each session. Participants feel more at ease, are more open and dare to share abstract ideas quicker in low light conditions.
If desired, the music system offers background sound at the correct volume during brainstorming sessions: 70-80 decibels. Research shows that this sound level stimulates creativity.
In addition to chairs there are flexible seats which, together with the curtains, can create sitting corners in order to brainstorm in smaller groups.
Other, practical elements in the studio: a SMART board, various whiteboards, brown paper rolls, flip-overs and all other materials needed for a Co-Creation session.
With this design, look and feel, the studio is much more than a research or meeting space and the ideal space for brainstorm or Co-Creation sessions.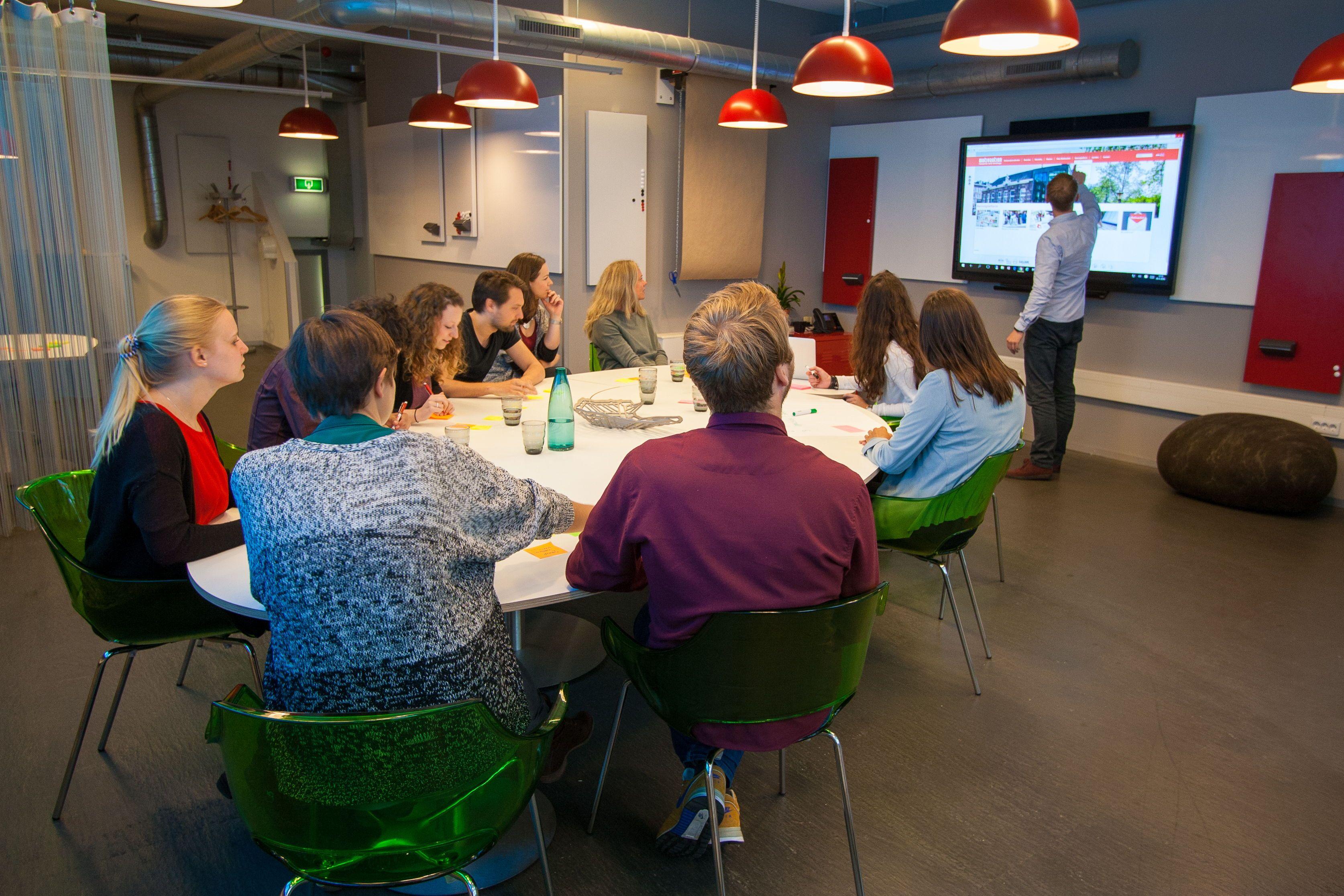 If you wish to know more about the possibilities and renting the space, please contact: