Digital developments have led to a clear distinction between groups of consumers. The first generation of people who grew up in the digital era are now adults. On the other hand there are people who are still getting used to the latest innovations. We thus stand at a unique crossroad in time where we can distinguish the following groups: those who have always been "connected", those who have been able to fit the digital developments into their lives and those who have been "offline" for the majority of their lives.
This leads to many interesting questions. Are the lives of individuals who grew up in the digital world different from those who grew up without access to the internet? How can we define digital lifestyles?
Digitality
To answer these and other questions, we have developed a domain-specific research program for the digital world: digitality. Through constant research into digital behaviour, values and lifestyles we can answer questions such as:
Is digital life different from physical life?
Which part of life is digital, and for whom?
What part of life will never become digital?
Why do some individuals share everything on social media whereas others don't?
Do different digital lifestyles exist?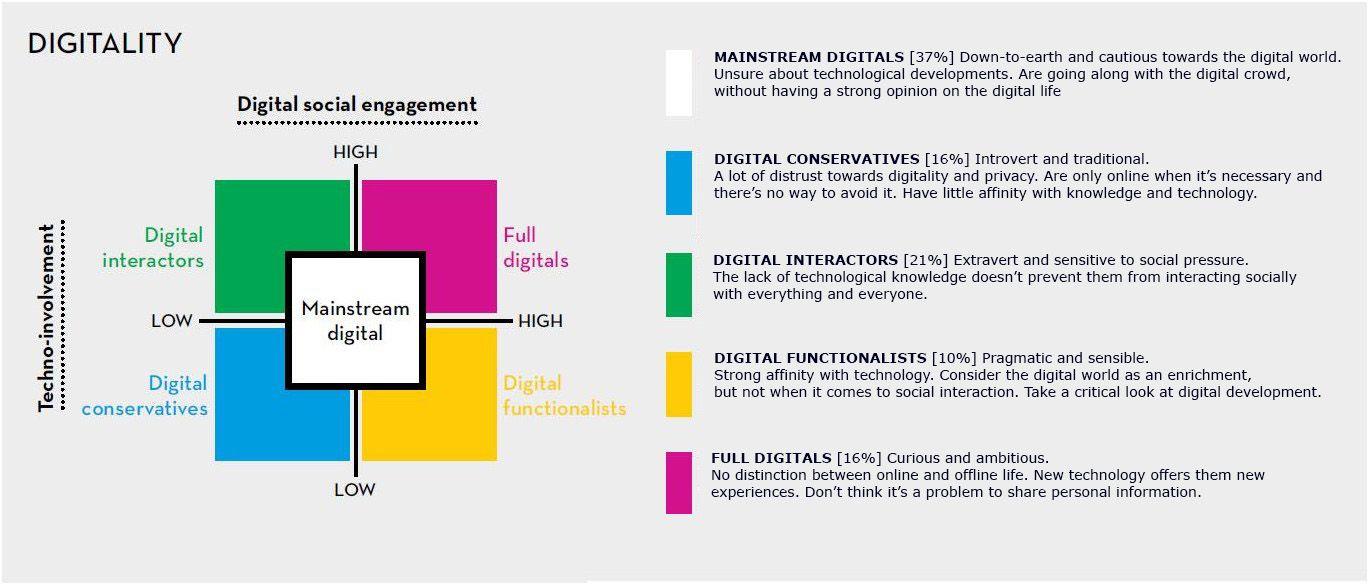 How does the Digitality model work?
The Digitality model is based on four classifications: high and low digital social engagement and high and low technological-involvement. This is visualized along two axes, which make up the five types of digital citizens. These five types all score differently on the following six underlying digital values that characterize digital behaviour:
Social: the level at which their social life takes place online
Tech-savvy: the level at which the user is comfortable using (online) technology
Escapism: the level at which the digital domain is used to escape daily life
Distrust and privacy: the level at which privacy is an issue within the digital domain
Interaction: the level at which functional interactions take place online
Online transactions: the level at which individuals are prepared to purchase online
What does it offer?
Digitality offers insights into the digital life of consumers, their behaviour and underlying motives. This type of research provides answers to questions concerning:
Branding and positioning: we help you match your positioning with the digital behaviour and values of your target audience
Media use: we help you find the right tone of voice for your digital target audience, so you can overcome any marketing or communication issues you are experiencing
Target group analysis: we help you decide which digital target group fits your brand, product and/or service.