Vitality: Insights into the motives that drive a vital society
22 March 2017
A vital and active lifestyle keeps getting more important. General knowledge on health increases and it is becoming ever easier to make responsible choices. Every supermarket offers a healthy option and even McDonalds has adjusted their menu.
But, keeping a vital lifestyle doesn't mean the same thing for everyone. The attitude, behavior and motivation towards vitality differs per person. A logical conclusion coming from this is that you cannot communicate to everyone in the same way.
Vitality-report: what's in it and what can you get out of it?
In the Vitality-report we introduce you to the various Vitality target audiences. What is their outlook on life? What characterizes their lifestyle and mentality? What influences their behavior, eating pattern and mental health?
The report provides you with extensive insights into the attitudes towards sports and movement, food and drink, stress, relaxation and sleep of the six groups. It also hands you concrete tips and tricks for communicating with these groups, so that you can create a strategy per Vitality-segment.
Who is Vitality for?
Vitality gives you concrete starting points for policy and communication surrounding vitality and is therefore extremely relevant for governments, organizations and companies that operate in the domains of sports, health, health care, education, HRM and nutrition. In addition to the report, Motivaction can help you with in-depth, customized research to answer your vitality-related questions.
What does the model look like?
The model is based on the Mentality-model and differentiates six segments in Dutch society between 18 and 75 years old: quality seekers, balance seekers, experimenters, the performance-oriented, socializers and the structure-seekers.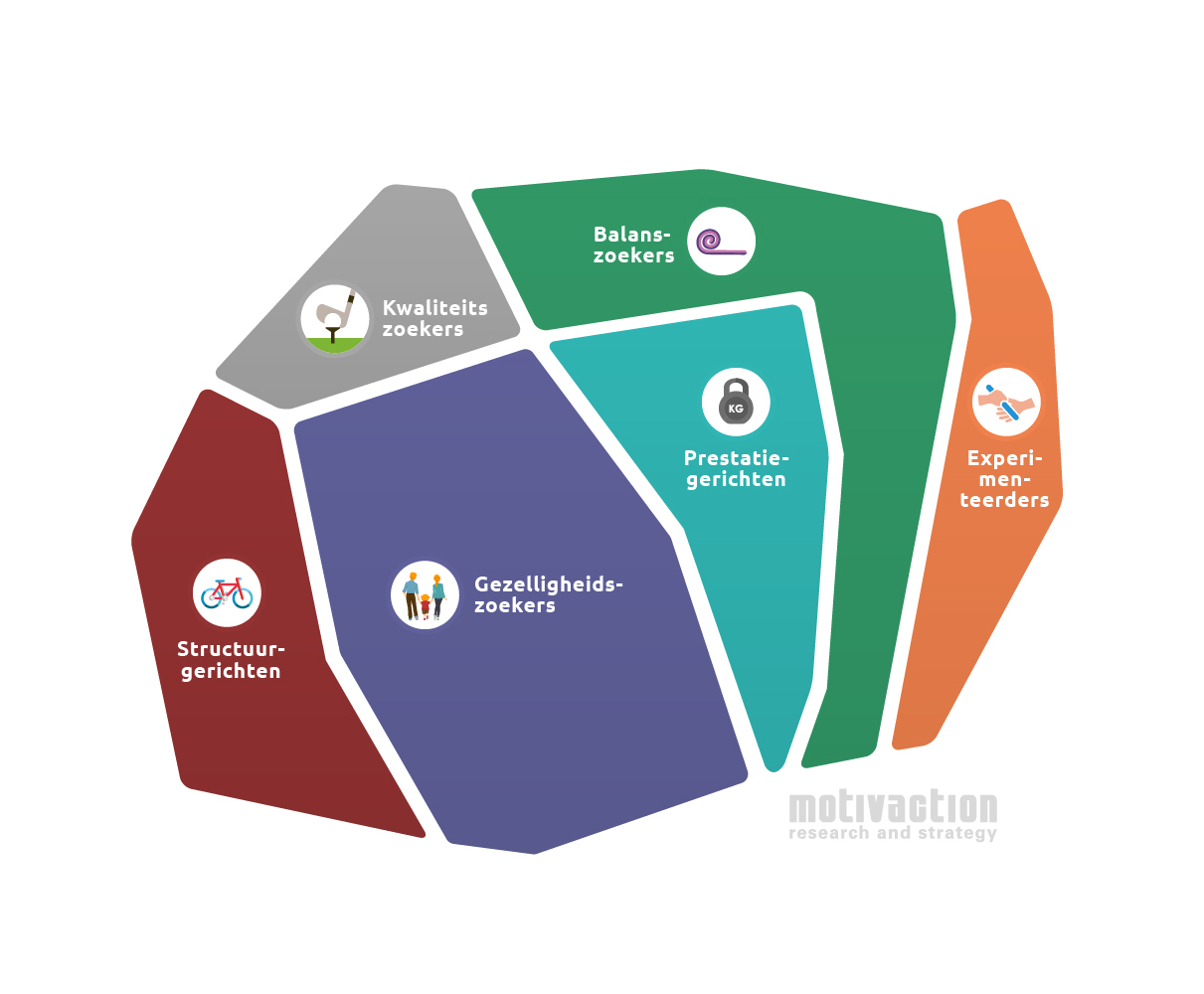 Balance-seekers: This group is intrinsically motivated to exercise and eat and drink healthily. They are well aware of what is healthy and what isn't. Balance seekers don't exercise because they have to, but because it brings them joy and relaxation. They prefer going outdoors.
Experimenters: Experimenters are impulsive and love to try new things. They prefer to exercise in a social setting and at a time that suits them, and care more about experiences than about possessing material things like sports gear.
Socializers: Socializers are the least active group. They want a comfortable life, don't want to say no to too many things because of their health or exercise regularly. As long as they feel good, it's good enough for them. Socializing and enjoying life are most important to them, which reflects in their eating patterns.
Quality-seekers: This group has a conservative mindset. They want an active life and enjoy it at the same time, but are also looking for exclusivity and status. Quality-seekers are mostly well-informed and responsible when looking for activities to partake in, or the food they eat.
The performance-oriented: They set themselves ambitious goals and are focused on looking good and pushing themselves to the limit. This is combined with a stressful and hectic life: 'work hard, play hard' is their slogan.
Structure-seekers: Exercise is a big word for this group. Structure-seekers like to get outside and be active in a calm way, such as walking or cycling. They enjoy small things and live a traditional life. Rest, cleanliness and regularity defines this group.
Would you like to know more about Vitality? Please contact Karin Lammers.